Ideas for your wedding day transportation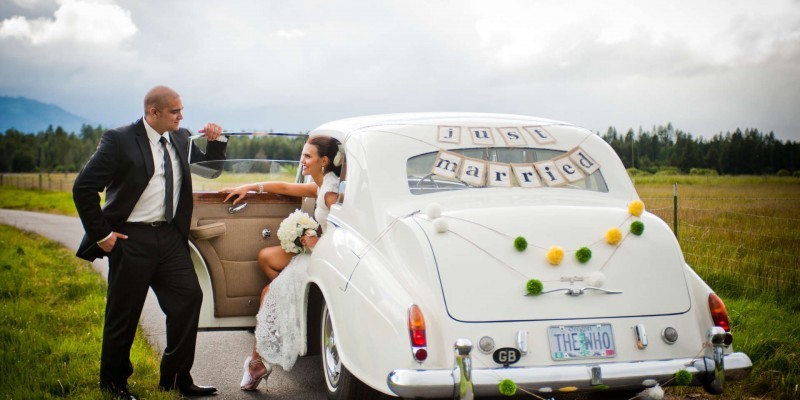 Arrive in Style
Pretty much as imperative as getting the entertainment at your wedding right, more than a little thought should be given to the style of the car that delivers you to the church and the reception venue for your big day. Wedding Day Transportation advice by Singers for Hire
The perfect vehicle can define the style of your wedding and make a great feature for your wedding day photographs. If your theme is vintage style, then a vintage Rolls Royce Silver Cloud or Daimler Limousine may be the perfect choice. If you are arranging a unique wedding or something more diverse, you might consider a white London style taxi or even a pony & trap?
What Size of Vehicle?
Make sure to consider your dress and your comfort in your chosen vehicle – does your dress have a long train? Check out the various cars in person, so that there are no unwanted surprises on the day, you don't want hasty alternative arrangements having to be made!
Colour and Embellishments?
Again, with wedding photographs in mind, you should consider carefully the colour of the car. Additionally, it is worth checking beforehand if the car company is willing to match your chosen colour palette with ribbons or flowers.
When Should I Book?
Like your wedding entertainment book as early as possible to ensure maximum choice and availability, particularly on Saturdays and during the peak wedding season. A small deposit usually secures the booking and will avoid disappointment closer to the time.
Statement of Style
Your wedding car is a key statement, so it is worth a little time and consideration. It will be another standout element of your careful planning and attention to detail. You won't regret it!
Some Suppliers
Singers for Hire are not responsible for external content or suppliers
All Events Limousines
www.alleventslimos.com
Wedding Cars Galway
www.weddingcarsgalway.ie
Wedding Cars Ireland
www.weddingcarsireland.ie
U2R1 Wedding Cars
http://www.u2r1weddingcars.com
Dixons Wedding Cars
www.dixonsweddingcars.ie
Absolute Wedding Cars
www.absoluteweddingcars.ie
Heritage Wedding Cars
www.heritageweddingcars.com
Luxury Wedding Cars
www.luxuryweddingcars.ie
Horans Wedding Cars
www.horansweddingcars.net
You May Also Like:
Singers for Hire Provide musical entertainment and undercover singers for any event, presenting a broad repertoire of songs from Broadway, to musical theatre and classical.