After Dinner Wedding Entertainment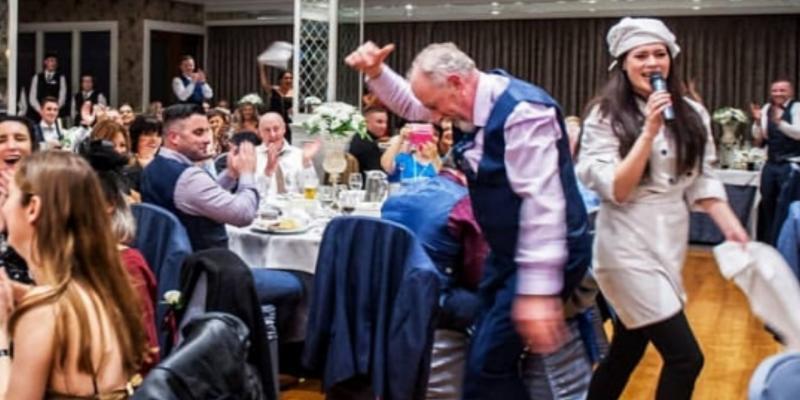 After Dinner Wedding Entertainment
So you've winced at the hairdressers, wept at the ceremony, devoured the 3/4/5 course meal, discussed the frocks, laughed at the speeches….now what? How about a little musical after dinner wedding entertainment?
The appeal of our unique "Singing Waiters" style of after dinner wedding entertainment is that it holds an equal attraction for guests of all ages and we ensure a lively mix of upbeat songs known and loved by all.
After Dinner Wedding Entertainment Video:
One of the greatest compliments we regularly get is from the band:
"you did the hardest part for us. Breaking the ice and getting everyone into party mood once the formalities are over!"
A very popular addition to our after dinner wedding entertainment has been our Disney selection. It's proving a massive hit with our brides and their guests.
Did you know that "Be Our Guest" from "Beauty and the Beast" is 28 years old this year? A modern classic!
Perfect for young and old
Our after dinner performance is always in the best possible taste, no smutty jokes for delicate young (or old!) ears.
Singers for Hire is an Irish entertainment company, with Riah operating our office in Limerick. We regularly employ 32 Irish singers. They have a broad reach across Ireland and the UK.
We arrive on site long before the wedding party and guests do. Then we set up and sound check (no extra charge). This will ensure a comfortable balance of volume in the most intimate or cavernous spaces. So you can expect a smooth start to the musical programme when your guests least expect it.
Singers for Hire are entirely self-sufficient in presenting our after dinner wedding entertainment. The group will need absolutely nothing from you or the venue on the day.
Variety of Shows
We use a variety of disguises and are constantly reviewing and updating our musical choices. Making sure to keep our entertainment fresh and surprising.
Our after dinner wedding entertainment will bring a fresh energy to a fading group after what will have been a long and emotional day. Years of experience has taught us that after dinner wedding entertainment is the optimum opportunity to get the most out of your evening. Guaranteed to lelea your guests with a smile and a memory. One that will linger long after the flowers have faded.
You May Also Like: