Singing Waiters London and South East England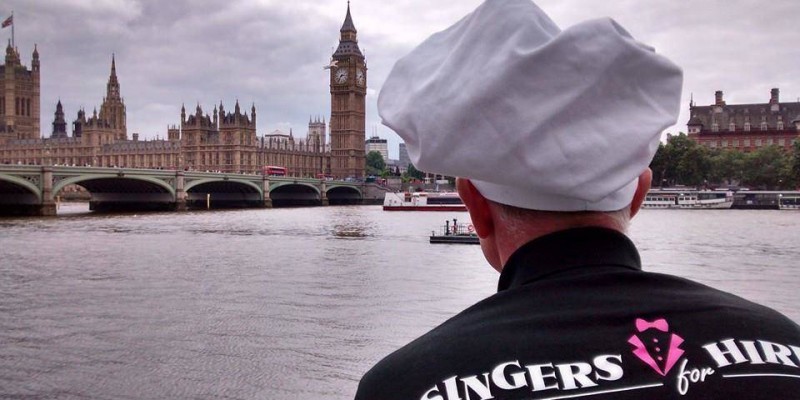 Add the WOW factor to your event with a Surprise Singing Chef or our Opera Singing Waiters, now available in numerous disguises in London and the South of England.
Singers for Hire are your number one boutique entertainment agency, ready and waiting to transform your wedding or event into a celebration. Our Operatic Entertainers are the ideal ice breaker and a guaranteed talking point for your wedding, corporate event or conference entertainment. We are delighted to bring our unique style and quality of production to your guests with prices from £800 fully inclusive. When you book Singers for Hire you get the finest opera singers in disguise, smiles and laughter with standing ovations assured.
Call our party planners today on
0208144 4463 and let us turn your party into a celebration or email
info@singersforhire.com for available packages to make your next event an unforgettable success
Oh my goodness!!! What can I say?! Wow! Wow!! Wow!!!…..and …..Thank you, thank you !!!Thank you!!!! You were truly brilliant and seriously got our party started. We owe you such thanks. Even Tristan's father was dancing as you sang 'New York, New York'. Everyone has commented on how much fun you were and what voices!!! And one even said yesterday 'amazing that Guyer's even have a singing chef and what fun for him to come out of the kitchen to sing for us" Haha! Really, we can't thank you enough for completing what was such a perfect day for us. You truly made it for us all. Thank you so very very much. Absolutely fantastic. All the very best of wishes Jo and Tristan – Guyer's House, Bath
With years of experience in Corporate and Wedding entertainment our Singing Waiters are ready and waiting to amaze your guests. We have sung for monarchs and world leaders including Queen Elizabeth II, Bill Clinton, Prince Albert II of Monaco in venues from London to Land's End and beyond.
Call for great offers and availability or Email info@singersforhire.com
Singers available throughout the UK including London, Bristol, Cornwall, Devon, Dorset, Hampshire, Isle of Wight, Oxfordshire, West Sussex, East Sussex, Kent, Somerset, Wiltshire, Berkshire, Gloucestershire, & Surrey
Beatrice
Nyle,
Just want to say a huge thank you for for your amazing entertainment on Saturday at our family wedding. Both bride and groom were completely taken by surprise and were absolutely blown away by your performance as were all the guests, as you could see by their reaction and participation!!! Thanks especially for including the Disney songs....Laura particularly loved them. All your choices were perfect and the entire show was really professional and added so much to what was truly a very special day.
Thanks again for everything
Sean
thank you so so much for yesterday. My Dad went from saying 'they've some cheek trying to flog wine' to being in stitches of laughter !!! It totally made the day for everybody. I just can't thank you enough. You're utterly amazing.
Julie
I booked singers for hire as a surprise for my husband at our wedding. Marco made our day so special, his voice is AMAZING, he's so funny & entertaining! He started with "Be our guest" and I felt like I was in a Disney movie! He was accompanied by a lady singer who's voice was equally rewarding. Our guests have been talking about them since. Money well spent is all I can say!!
Carmel
A big "thank you" to Marco for a great performance in Ballyseede Castle at our family wedding. All the guests and myself really enjoyed it immensely; it was a delightful surprise for all. Our American and Irish guests had never seen anything like it and all are still talking about it. The atmosphere was already great after a lovely ceremony and drinks reception in Ballyseede. Our numbers were small so the mingling was already well established but Marco brought it to a new level. I had managed to keep it secret which was difficult as I was so delighted to get the booking - even my husband didn't know! It got the rest of the evening off to a great start and we all had a great and memorable night.
Thanks again, and to you also for your speed in confirming the booking and arranging it all.
Best wishes.
Sinead
...I have to take this opportunity to say it was absolutely outstanding. So many people are still talking about it. It was without a doubt (after my vows of course !!! ) my favourite part of my wedding. I cannot thank you enough for the performance! It was amazing !!
Thank you, thank you, thank you...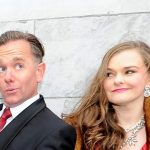 Cathy and John
A massive thank you to you and your team for the most amazing performance.
It was a massive hit at our wedding. The singers were incredible and sang all the songs we asked for.
We couldn't have asked for anything more. It was incredible, everybody was up on their feet, and the top table was even on top of the chairs. It was brilliant.
Thank you so much again and would recommend you and your team to all brides and grooms out there.
Top quality!!!