Entertainment for Weddings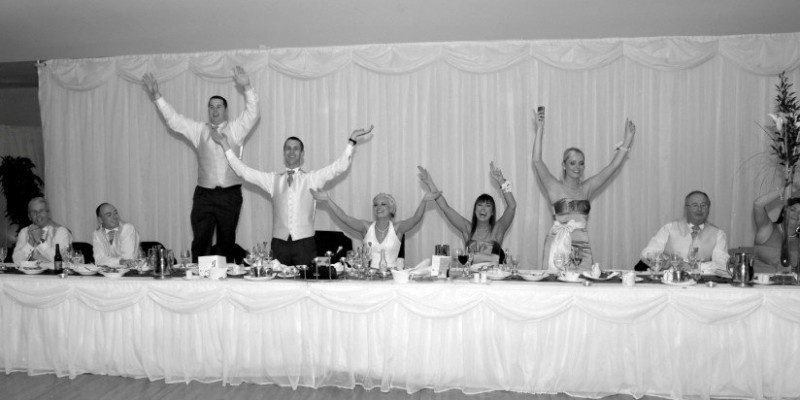 Your Special Day
Singers for Hire are here to help make your wedding day a unique and amazing occasion. We understand that you have a huge range of entertainment options available to you for your wedding day. We want to help find the right show for you & your guests. If you have questions we are here to answer them for you. With over 25 years of experience in the ever changing wedding industry we are delighted to help you stay right on trend with the latest shows and best new surprise ideas to delight your friends and family.
Conversation Starter
Our acts combine amazing singing, with an interactive, highly entertaining show. Our performance lifts the energy at any event and is the ultimate "Ice-Breaker"!
Great Entertainment for Weddings
Imagine your guests' surprise and delight when a member of staff or even one of your guests burst into song….
Our waiter singers blend in with other staff until at a given point, the entertainers cause a distraction and burst into song. Performing a sophisticated and humorous show, they'll serenade your guests, and soon everyone will be singing along to "O Sole Mio", "Funiculi Funicula" and "That's Amore" with their serviettes waving in the air.
Surprise singing waiters, singing guests and operatic chefs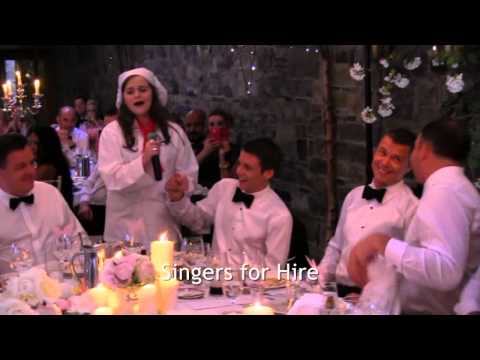 click pic to play video
Experts at Wedding Entertainment
We have delighted hundreds of brides and grooms on four continents with our magical blend of music, comedy and surprise.
From our vast repertoire, set lists are compiled to 20 to 30 minutes, featuring a variety of popular opera, swing standards, and much loved Italian, Spanish and French songs.
Méabh 

Just getting a chance to catch up with emails now!
Just wanted to say thank you for such a great performance at our wedding in Tulfarris! I was apprehensive leading up to it, but I had no need to be; it was excellent! It was perfect timing and everyone was raving about it!

Thank you again and best wishes,

Stacey & Ian

Just back from honeymoon so only getting the chance to come back to you now!
We would like to say thanks so much to you and of course to Marco for the hillariously brilliant performance he put on at our wedding.
The amount of people commenting on it even still now is unbelievable! We have passed on your details to a lot of people already and will continue to do so.
Thanks for adding to the best memories of our lives!

Wishing you continued success in what you do.

Catriona and Hugh 

Just want to say huge thanks from us for the brilliant performance by the singers who performed at our wedding in Breaffy.

They were absolutely fantastic and we're still getting rave reviews and complements from our wedding guests. Definitely a great addition to the wedding entertainment and they came on at just the right time when people needed some reenergising after all the food!

Would highly recommend the performance to any other potential customers.

Please pass on our thanks to the two singers,

Kind regards

Cook Foods

Hi,

Just wanted to say a huge thank you to Marco for today, he was awesome!

Many thanks,   Vanessa

Breda & Derrick Deane

Hello,

I just wanted to say the biggest and happiest thank you to Singers for hire! The singing chef was fantastic. He had everyone up singing and dancing and it honestly made our wedding. I booked it as a surprise for my hubby and he loves it! Looking around the room from the top table everyone was participating & I have never seen happier wedding guests and the guests have been none stop raving about it.

We can't wait to get our wedding video back to rewatch the singing chef!

Thank you again!

Lots of love Breda & Derrick Deane ️

Clare McHugh

Hi Riah and Marco,
I just want to say thank you so much for the great performance on Saturday.  It was certainly the highlight of the evening, the Bride & Groom loved the surprise and everyone was still talking about it the next day. 

Thanks for everything. 
Marco Singing Waiter

click pic to play video