Entertainment for Weddings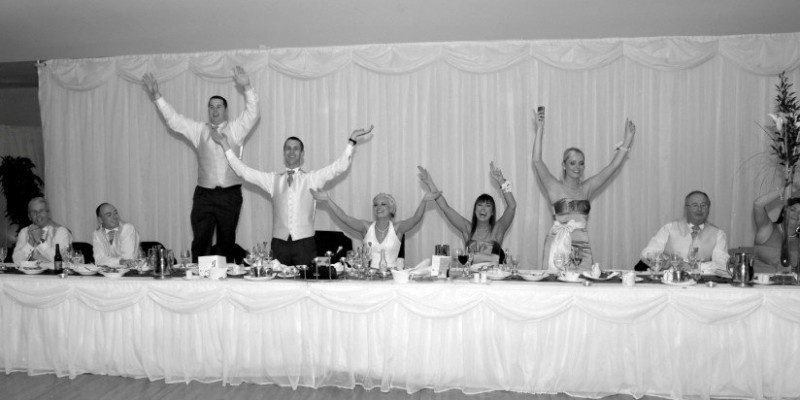 Your Special Day
Singers for Hire are here to help make your wedding day a unique and amazing occasion. We understand that you have a huge range of entertainment options available to you for your wedding day. We want to help find the right show for you & your guests. If you have questions we are here to answer them for you. With over 25 years of experience in the ever changing wedding industry we are delighted to help you stay right on trend with the latest shows and best new surprise ideas to delight your friends and family.
Conversation Starter
Our acts combine amazing singing, with an interactive, highly entertaining show. Our performance lifts the energy at any event and is the ultimate "Ice-Breaker"!
Great Entertainment for Weddings
Imagine your guests' surprise and delight when a member of staff or even one of your guests burst into song….
Our waiter singers blend in with other staff until at a given point, the entertainers cause a distraction and burst into song. Performing a sophisticated and humorous show, they'll serenade your guests, and soon everyone will be singing along to "O Sole Mio", "Funiculi Funicula" and "That's Amore" with their serviettes waving in the air.
Surprise singing waiters, singing guests and operatic chefs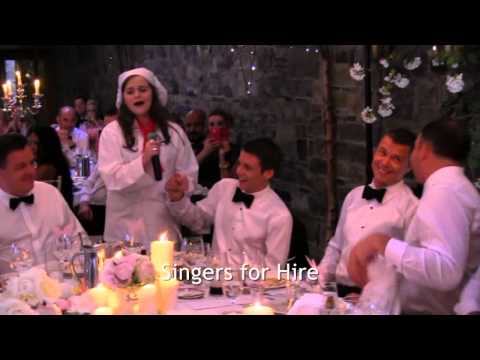 click pic to play video
Experts at Wedding Entertainment
We have delighted hundreds of brides and grooms on four continents with our magical blend of music, comedy and surprise.
From our vast repertoire, set lists are compiled to 20 to 30 minutes, featuring a variety of popular opera, swing standards, and much loved Italian, Spanish and French songs.
Beatrice

Nyle,
Just want to say a huge thank you for for your amazing entertainment on Saturday at our family wedding. Both bride and groom were completely taken by surprise and were absolutely blown away by your performance as were all the guests, as you could see by their reaction and participation!!! Thanks especially for including the Disney songs....Laura particularly loved them. All your choices were perfect and the entire show was really professional and added so much to what was truly a very special day.
Thanks again for everything

Sean

thank you so so much for yesterday. My Dad went from saying 'they've some cheek trying to flog wine' to being in stitches of laughter !!! It totally made the day for everybody. I just can't thank you enough. You're utterly amazing.

Julie

I booked singers for hire as a surprise for my husband at our wedding. Marco made our day so special, his voice is AMAZING, he's so funny & entertaining! He started with "Be our guest" and I felt like I was in a Disney movie! He was accompanied by a lady singer who's voice was equally rewarding. Our guests have been talking about them since. Money well spent is all I can say!!

Carmel

A big "thank you" to Marco for a great performance in Ballyseede Castle at our family wedding. All the guests and myself really enjoyed it immensely; it was a delightful surprise for all. Our American and Irish guests had never seen anything like it and all are still talking about it. The atmosphere was already great after a lovely ceremony and drinks reception in Ballyseede. Our numbers were small so the mingling was already well established but Marco brought it to a new level. I had managed to keep it secret which was difficult as I was so delighted to get the booking - even my husband didn't know! It got the rest of the evening off to a great start and we all had a great and memorable night.

Thanks again, and to you also for your speed in confirming the booking and arranging it all.
Best wishes.

Sinead

...I have to take this opportunity to say it was absolutely outstanding. So many people are still talking about it. It was without a doubt (after my vows of course !!! ) my favourite part of my wedding. I cannot thank you enough for the performance! It was amazing !!
Thank you, thank you, thank you...

Cathy and John

A massive thank you to you and your team for the most amazing performance.

It was a massive hit at our wedding. The singers were incredible and sang all the songs we asked for.

We couldn't have asked for anything more. It was incredible, everybody was up on their feet, and the top table was even on top of the chairs. It was brilliant.

Thank you so much again and would recommend you and your team to all brides and grooms out there.

Top quality!!!
Marco Singing Waiter

click pic to play video