Wedding Anniversary Entertainment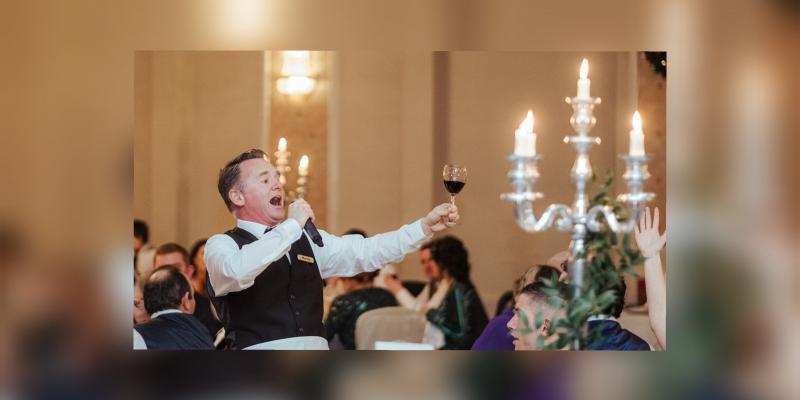 "What do you get the people that have everything?"
A wedding anniversary is an amazing achievement and a wonderful family event. The perfect wedding anniversary entertainment can make it even better.
As children or friends of the couple you'll want to do something special, something memorable and interesting. Ideally you are looking for something that hasn't been done before. Most challenging of all, you're doing it for the people in your life who tell you they have everything.
The most important people in your life, your parents, who have done everything for you.
So of course you want to do something extra special for them on their wedding anniversary.
Regardless of them saying "please don't get me anything", and "there's nothing I need that I don't have". Although it's very possibly true!
The Gift of Music
The solution must be to get something they can't possibly already have. Why not the intangible gift of entertainment and the memories that come with it?
Wedding anniversary entertainment from Singers for Hire is a perfect gift option for your family occasion.
Singers for Hire surprise singers and singing waiters are just as suitable for smaller family gatherings as large formal occasions. The repertoire they sing for wedding anniversary entertainment is diverse and interesting. While the singers perform many contemporary songs they also specialise in repertoire from the middle and early parts of the 20th century. This makes them particularly enjoyable for 40th and 50th wedding anniversary entertainment. From gatherings of 2 to 2000 we are honoured and thrilled to be part of family celebrations across the nation.
Why book us?
Appropriate entertainment for wedding anniversary celebrations can be difficult to find. Such parties are sometimes smaller family affairs and often daytime events. Party bands and DJs won't work. Alternatively our singers can work in smaller venues and our professional sound equipment is perfect for more intimate spaces.
Our surprise singers and recital artists are equally suitable to small events and larger celebrations, for both daytime and evening events. The style of repertoire that they sing is suitable for all but importantly we supply singers who can sing many of the nostalgic classical and crooner hits that were in vogue when guests of an older generation were "on the town".
Call us today to discuss your wedding anniversary entertainment requirements and to book our wonderful surprise singers.
Singers for Hire are your entertainment partners, ready and waiting to turn your party into a memorable celebration.
What else we do:
Contact Us: