Three Waiter Undercover Opera Singers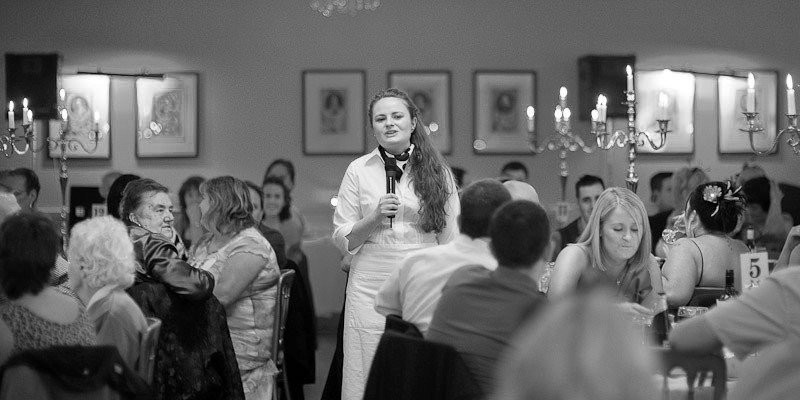 Sophisticated Three Waiters Act
This amazing three waiters show features a combination of male and female singers. Singing operatic and Neapolitan highlights. Beginning with the Singing Chef coming straight from the kitchen to serve his special dessert. He starts this fairytale performance surprising everyone with his fantastic voice.
Serenading your guests, he'll soon have everyone singing along with their arms in the air. But the surprise continues as he is quickly out-sung by our glamorous undercover soprano waitress. In an amazing finale our "Banqueting Manager" steals the show with a rendition of Pavarotti's "Nessun Dorma". These Three Waiters offer a dream performance for a princess bride.
Three Singing Waiters
Siobhan & William

Nyle, you absolutely blew everyone away with your wonderful performance. It was the one of the biggest highlights and the one thing every single person mentioned-'Genius', 'I could haven listened to him all night', 'He got everybody going'... it goes on. William and I throughly enjoyed every moment, it had us both grinning from ear to ear- especially seeing everyone's reaction when you started to sing. You are such an amazing talent!

Riah, thank you for your help throughout the booking process, you were great!

Union Square Cafe NYC

I want to let you know that the singer/performers, Marco and Ryan, who you sent to my party were just wonderful. They were the ultimate professionals.
The element of surprise for my guests when Marco began to sing dressed as one of the waiters, was terrific and all the songs they sang were thoroughly enjoyed by everyone, especially me. Because the song list included familiar tunes, most of them sang along, clapped and truly had lots of fun.

Thank you for arranging this and I won't hesitate to recommend you.

Laura Rochford, Naas, Kildare

Just wanted to send a quick note to say a hugh Thank You for Marco on Saturday in Killashee. He was just wonderful. He surprised everyone & brought the room back to life after the main course was served (just in time). With his fantastic singing voice & interaction with the guest & perfect timing, by the end everyone was standing clapping & screaming for more. I cannot recommend him highly enough. I have already passed on the singers for hire website to friends that are getting married later this year & also next year so fingers crossed they will book him. Thanks again for the fantastic entertainment

Carole H, Vienna Woods Hotel, Glanmire, Cork

I just wanted to drop you a quick note to say that Marco was brillant on the night of our wedding he really took our guests by surprise ( in a good way ) and really set the tone for the remainder of the evening. He went down a treat - that xmas jumper is just priceless...He was the talk of the wedding for days after so thanks again for making our day extra special. I will deff be recomending Marco to friends and family going forward.

Caroline Power, Durrow Castle

I just wanted to thank you for the performance in Durrow on 18th Sept – it went down a bomb – I had never seen it before and didn't know what to expect but it was fantastic. Please thank Joan also. I hope you get some more gigs from it. Couldn't have asked for any more………

Maria

Just a quick email to say thanks a million to the singing waiters for their performance at our wedding on the 14th of September in castle durrow. They both were amazing! The feedback we received from the guests was brilliant and definitely was one of the highlights of the wedding!

The bridesmaids loved the Singing Chef as did everyone else that was involved!

You were right in saying that they won't disappoint and I'm glad we went with them!

— Vanessa & Adrian

Thank you very much for singing at our wedding - all our guests are still talking about the fantastic singing chef. You were such a surprise and really got our party going. I've already recommended you to a number of engaged friends so hopefully we'll see you again!!

Méabh 

Just getting a chance to catch up with emails now!
Just wanted to say thank you for such a great performance at our wedding in Tulfarris! I was apprehensive leading up to it, but I had no need to be; it was excellent! It was perfect timing and everyone was raving about it!

Thank you again and best wishes,

Fionnuala

What can I say? That was an absolutely terrific performance. They really put on one hell of a show. The crowd really enjoyed it. I would highly recommend your singing waiters, they were worth every penny.

Jill Fitzgerald, Ennis Co Clare

It's hard to make your wedding different - to give people something new and unexpected. The Singing Chef is that something different and something special. Marco the singing chef was SUPERB - by far THE best decision I made in planning my wedding. The element of surprise is key, so don't tell anyone, just sit back and watch the delight on your guests' faces. Marco and his singing waitress companion had my guests out of their seats, swinging napkins above their heads, singing their heads off! They were BRILLIANT and worth every penny. Book the singing waiters and I guarantee your wedding will be the one everybody talks about for a long time to come.

Irish Horizons International Conference & Incentive

http://www.irishhorizons.com

Hi Riah,

Just wanted to say a big thank you to Marco for entertaining us on Friday night. He was amazing and the best surprise for our staff!
I will definitely be in touch again as I would love to use his services again for some of our corporate events.
Please pass on my thanks to him.

Thanks a mil!

Kind Regards,

Camille

Irish Horizons International Conference & Incentive

Mr and Mrs Conway Halligan

We just wanted to say a huge Thank you for an amazing performance which we and all of our guests will never forget.  We had been looking for something a bit different for our wedding to be a talking point and something that would wake up our guests after a heavy dinner and you most definitely delivered.  All our guests have not stopped raving about the show.  You made it so easy to book you and to trust you knew what we wanted.  Extremely professional and better than we ever could have anticipated.  It was also great for us aseventhough we knew you were coming, (we were the only people who did) but we didn't really know what to expect and we couldn't have had been happier.  Booking you was money very well spent.  We will be recommending you to everyone looking for a crowd pleasing, memorable performance in the future.  All the best to you and the team.

Thank you so much.

Hugh and Ailish Hamill , Ardilaun Hotel , Galway

I just wanted to email you to thank you so much for doing such a great performance at our wedding on 8th October. We and our guests enjoyed every minute, you're not only a very talented singer but a great comedian too! Your performance was the part of the day that we got most compliments and comments on, the guests all got such a surprise.We will be sure to recommend you to our friends. Please feel free to use this email as a testimonial. Thanks again!

Elaine & Damien, Laceys Hall in the Carrickdale Hotel

Nyle, I just want to say a big thank you for making my wedding day so special, people are still talking about you, and for me to stand at the top table and look down at all my guests standing waving their napkins in the air was mind blowing, just what I wanted, and it was all down to you. Thanks again and I will certainly recommend you. Many many thanks again Elaine & Damien

Sinead

...I have to take this opportunity to say it was absolutely outstanding. So many people are still talking about it. It was without a doubt (after my vows of course !!! ) my favourite part of my wedding. I cannot thank you enough for the performance! It was amazing !!
Thank you, thank you, thank you...
You May Also Like: