Three Waiter Undercover Opera Singers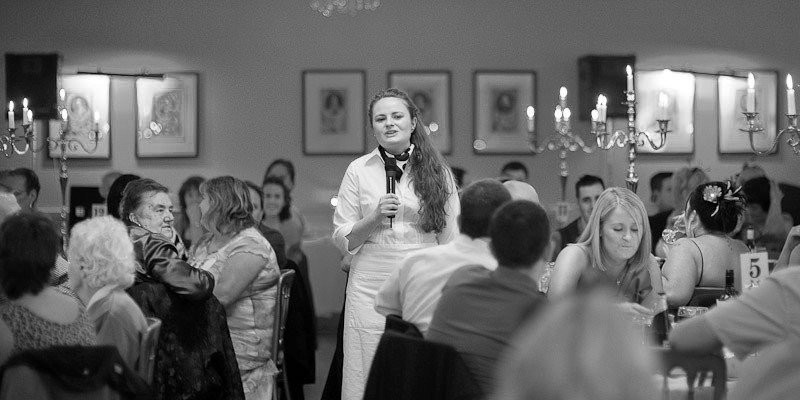 Sophisticated Three Waiters Act
This amazing three waiters show features a combination of male and female singers. Singing operatic and Neapolitan highlights. Beginning with the Singing Chef coming straight from the kitchen to serve his special dessert. He starts this fairytale performance surprising everyone with his fantastic voice.
Serenading your guests, he'll soon have everyone singing along with their arms in the air. But the surprise continues as he is quickly out-sung by our glamorous undercover soprano waitress. In an amazing finale our "Banqueting Manager" steals the show with a rendition of Pavarotti's "Nessun Dorma". These Three Waiters offer a dream performance for a princess bride.
Three Singing Waiters
Lesley, Dunsilly Hotel

"Thank you so much for singing for my family on Sunday. I am sure you have been told many times but I will say it again - your voice is truly amazing. You moved everyone in the room to tears. I was so thrilled. Your performance made the day for my parents in law and will be a talking point in our family for many years to come. I really cannot express how much it meant to me personally that you sang. I thank you again, and wish you every success in the years to come."

Sarah and Paul, Westwood Hotel, Galway

Wow! Wow! Thank you so much. What can I say, an exceptional performance, that left me wanting to hear more of you. You were the highlight of our evening and I cannot praise you enough. Our guests we absolutely stunned by your performance and you have been the talk of our wedding ever since. I just wish I could relive it all again. Nyle we think you are absolutely amazing at what you do, Keep doing it, you are a natural born performer. The Hotel manager has never seen a performance like yours and they are grateful that you kept their staff in the mood too. They have informed both Paul and I that they are going to advertise you also. I wish you every success for the future, hopefully someday we can see you preform again

Eimear

Just wanted to drop a quick email to say thank you to 'Marco' and your Singing Waiters team. It was a major highlight of our day & just blew of all our guests away. We are still getting compliments & people singing his praises. Thank you for the communication & planning beforehand. I'll be recommending you to everyone.

Lisa & John

Finnstown House

Hi I just wanted to thank you so much for the pizza singer at the wedding he was amazing and really got the party stated everyone thought he was brilliant , thanks so much Lisa and John

Catriona and Hugh 

Just want to say huge thanks from us for the brilliant performance by the singers who performed at our wedding in Breaffy.

They were absolutely fantastic and we're still getting rave reviews and complements from our wedding guests. Definitely a great addition to the wedding entertainment and they came on at just the right time when people needed some reenergising after all the food!

Would highly recommend the performance to any other potential customers.

Please pass on our thanks to the two singers,

Kind regards

Liz Godfrey, Clarion Hotel

I would just like to say that the entertainment which you provided last night at our corporate night was outstanding. I have received many emails today all of which have complimented the entertainment. Once again thank you for making my evening a success.

Sarah and Declan

"Just sending a quick 'Thank you' to Singers for Hire for singing at my wedding on Thursday in the Dunraven Arms Hotel. They were excellent and the highlight of my wedding. My guests were well impressed. Thank you again."

Maria

Just a quick email to say thanks a million to the singing waiters for their performance at our wedding on the 14th of September in castle durrow. They both were amazing! The feedback we received from the guests was brilliant and definitely was one of the highlights of the wedding!

The bridesmaids loved the Singing Chef as did everyone else that was involved!

You were right in saying that they won't disappoint and I'm glad we went with them!

Mission San Juan Capistrano, California

"The best word of praise I can share with you is to highly recommend him. You will not be disappointed"
— Mechelle Lawrence Adams – Executive Director, Mission San Juan Capistrano, California

Aine Burke, Hotel Meyrick, Galway

Just want to drop a note to say a huge thank you to you, Marco, for the wonderful show you put on at our wedding recently (Dec 2012). Everyone was raving about how good you were on the night and I still have guests contacting me to say how much they enjoyed your singing. Im so glad I took your advice about the timing of the performance, it came at just the right interval and gave everyone in the room a lift. Thanks again, I will have no hesitation in highly recommending you (in fact I think you have at least 2 bookings coming directly from our event!) Thanks again, Aine & Ronan

Niamh & Mick

A Big Thank You for the amazing performance of the Singing Chef at our wedding in The Ormonde Hotel, Kilkenny.

The chef really took our guest by surprise (some even commented that they thought it was a lovely touch that the chef came out from Kitchen to wish us well).  From the moment he started singing he blew us all away and he really got the wedding party off to a great start.

Thanks again and continued success with your performance.
Kind regards
Niamh & Mick

Denise and Darryl

Finally getting around to an official thank you!
We were absolutely blown away by Marco the singing Pizza Delivery guy at our wedding in the Meyrick on 21/10/16. It would be an understatement to say that it absolutely made our day and our guests and ourselves enjoyed every single second of the performance. Marco was the talk of the day - "I have never been at a wedding where the craic was so good... and we hadn't even had dessert yet!" were typical of the comments we received! Besides panicking my poor mother as she fumed at the idea that someone had the audacity to order pizza at our wedding (it is so funny to hear her tell this story), everyone had an exceptional experience listening and laughing with Marco!
Thank you so much for making this one of the big highlights of our day, making our guests so happy, and making it a half hour we only wish we could relive over and over again! It has made us regret our decision not to have a videographer!!

With sincere thanks,

Denise and Darryl

Tamsin Johnstone, Hanbury Manor, Ware

Thanks again for performing at our wedding. You certainly broke the ice and made the crowd laugh and go mad... you certainly came across very, very well and we would hope to use you again at another big function.

Laura Hogan & Brendan Browne, Radisson Blu Cork

To Marco, our amazing singing waiter for our wedding on June 11th.... A huge thank you for an outstanding performance...you were a huge hit with the guests... People are still raving about it... No doubt further bookings will come your way as a result as were many soon to be married couples present! Thank you so much again! Truly was a highlight of the day !

Clare "Opera 2005"

"Bonjour Monsieur le Chef! My phone line is still resounding with calls from the captivated guests at Hayfield Manor on Thursday last. They were absolutely enthralled with your dramatic entrance, your excellent singing and your vibrant personality. You are really so gifted with your charm and charisma. I believe you were even propositioned by an octogenarian!! Thank you so much for such a wonderful performance."
You May Also Like: