Sandra Oman
Soprano Sandra Oman was the 2004 recipient of the Margaret Burke Sheridan Memorial Award for her contribution to opera in Ireland. Born in the heart of the Liberties, Dublin, she graduated from the DIT Conservatory of Music, Dublin with the Ely O'Carroll Gold Medal, the Conservatory's highest award, having studied with Edith Forrest and Alison Young. Since then, she has studied with the late Graziella Sciutti in London and for many years now, her singing teacher has been none other than her husband, Conor Farren, one of Ireland's leading voice teachers. She further has a degree in Italian and French from University College, Dublin. With the assistance of the Arts Council of Ireland, Sandra travelled to Siena, Italy, to the Carlo Bergonzi masterclasses. Having won major awards at all the national festivals (Feis Ceoil, Ballymena Music Festival, Sligo Feis Ceoil and Fr. Matthew Feis, Dublin), she reached the final stages of the National Mozart Competition in the United Kingdom.
Sandra has performed extensively in opera and concert in Ireland, UK, USA, Italy, Faroe Islands, Latvia and Poland. Her roles include Susanna
The Marriage of Figaro,
Despina
Cosi Fan Tutte,
Donna Elvira
Don Giovanni,
Illia
Idomeneo,
Semele
Semele,
Ismene
Mitridate,
Papagena
Die Zauberflote,
Gilda
Rigoletto,
Mimi and Musetta
La Boheme,
Liu
Turandot,
Suor Genovieva
Suor Angelica,
Micaela and Fra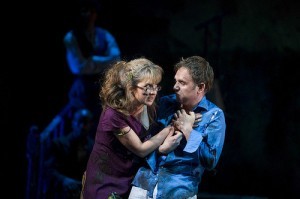 squita
Carmen,
Tisbe
La Cenerentola,
Adele
Die Fledermaus,
High Priestess
Aida,
Valencienne
Die Lustige Witwe,
Mabel
The Pirates of Penzance,
Dew Fairy/Sandman
Hansel and Gretel,
Tebaldo
Don Carlo,
Anna
Nabucco,
Flora Bervoix
La Traviata,
Clotilde
Norma,
Rychtarka
Jenufa,
Eunice Hubbell
A Streetcar named Desire,
andAdina
L'Elisir d'Amore
with companies such as Opera Holland Park (UK), Longborough Festival Opera (UK), Opera Project (UK), Lyric Opera (Irl), Co-Opera (Irl), Opera 2005 (Irl), Opera Interludes (UK) and Opera in the Open (Irl). A favourite with Opera Ireland, she is proud to have performed principal roles with them in ten different seasons, including roles in
Cosi Fan Tutte
(Despina),
La Cenerentola
(Tisbe),
Dead Man Walking
(Kitty Hart),
A Streetcar named Desire
(Eunice Hubbell),
Don Carlo
(Tebaldo)
On the concert platform she has sung with virtually all of Ireland's major choral societies – Dublin County Choir, Culwick Choral Society, Goethe Institute Choir, Guinness Choir, Lassus Scholars, Bray Choral Society, Easy Cork Choral Society – in works by Bach, Handel, Mozart, John Rutter, Rossini, Haydn and Faure.
In the field of classical crossover, Sandra has performed as guest artist with the Celtic Tenors, at the National Concert Hall, Dublin, University Concert Hall, Limerick, the Cork Opera House and also in the National Opera House, Riga, Latvia.
She is now part of the new classical crossover phenomenon, Trilogy, a trio comprising Niall Morris (formerly of the Celtic Tenors) and Simon Morgan (of recent Sweeney Todd at the Gate fame). Sandra performed to a television audience of over a million people last July when she performed "Barcelona" at Murrayfield Stadium, Edinburgh at the momentus Barcelona-Hearts soccer match. Finally, Sandra was the soprano soloist at the hugely successful South African "Queen at the Ballet" which ran for two weeks at The Point Theatre, Dublin.
Recent engagements included the role of Kitty Hart in the Irish premiere of Jake Heggie's Dead Man Walking for Opera Ireland, Winter 07 and her interpretation of Despina Cosi Fan Tutte for Opera Ireland, May/June '07 received widespread critical acclaim. Forthcoming engagements include First Lady The Magic Flute for Lyric Opera at the National Concert Hall, Dublin, Autumn '08, Helena in A Midsummer Night's Dream for Opera Ireland, Winter '08. In August, she is also in concert with the RTE Concert Orchestra at the National Concert Hall, Dublin and is also in recital at the Boyle and Wexford Arts Festivals.