New Surprise Acts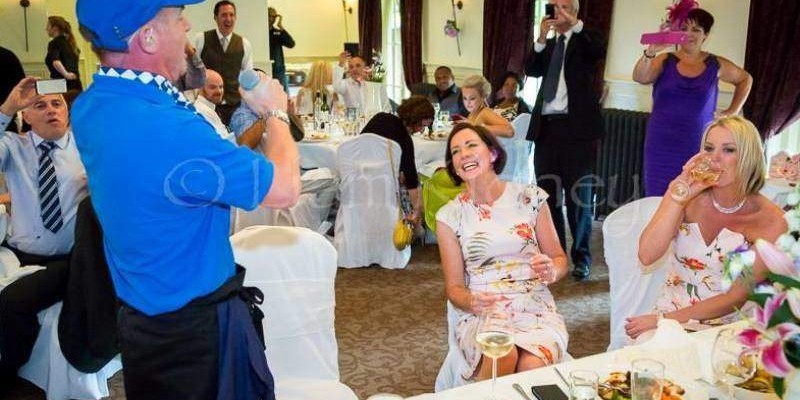 At Singers for Hire we are always looking for new and innovative ways to surprise and delight your guests. To this end we have developed a number of new acts which we hope you will enjoy and which will add the WOW factor that every bride wants on her special day.
Lucky Singing Chimney Sweep
"If a chimney sweep meets a bride and groom at their wedding, it's a very good omen for their future, especially if he wishes them good luck."
Evoking memories of Dick van Dyke in Mary Poppins our "Lucky Chimney Sweep" will amaze and impress your guests when he enters the room with songs of luck and good wishes for all. He'll have your guests smiling, laughing and singing along with firm favourites including "Chim Chim Cheree", " Always Look on the Bright Side of Life" and "When You're Smiling". The Singing Sweep is a guaranteed hit with guests of all ages.
Tenor Singing Waiter

The Lost Pizza Delivery Guy
All the charm of our singing chef and waiters in a brand new package. The Singing Pizza Guy. Your friends and family will be left scratching their heads as our delivery guy wanders lost around the banquet hall. At last we discover that he has a very special delivery for the bridesmaids. Cue music, fun and laughter. From "That's Amore" to "New York, New York" with songs of love, and lots laughs. This new act will serve up a slice of the things that make lasting memories.
Fake Key Note speaker…Who Sings!
Perfect for your next corporate event "Dieter the Fake Speaker" He says he's a sales adviser and staff motivator for a leading multinational retailer but there's something fishy about this key note speaker. From his dodgy advice to strange childhood anecdotes, Dieter the spoof keynote speaker will have your guests perplexed until the moment he sings and all is revealed. Smiles, great singing and maybe some good advice thrown in –  this popular act will transform your next company event or gala dinner.
Wedding Flash Mob Performance –
Les Miserables "One Day More"
The latest world wide wedding phenomena – your guests springing from their seats to sing the rousing chorus "One Day More" from the hit musical Les Miserables. Using a mixture of professional singers and some of your own guests Singers for Hire can coordinate your unique and personal flash mob as an amazing highlight and talking point of your big day.
Email today and make your wedding or event a one of a kind.
Singers for Hire – Turning Parties into Celebrations!
You May Also Like: